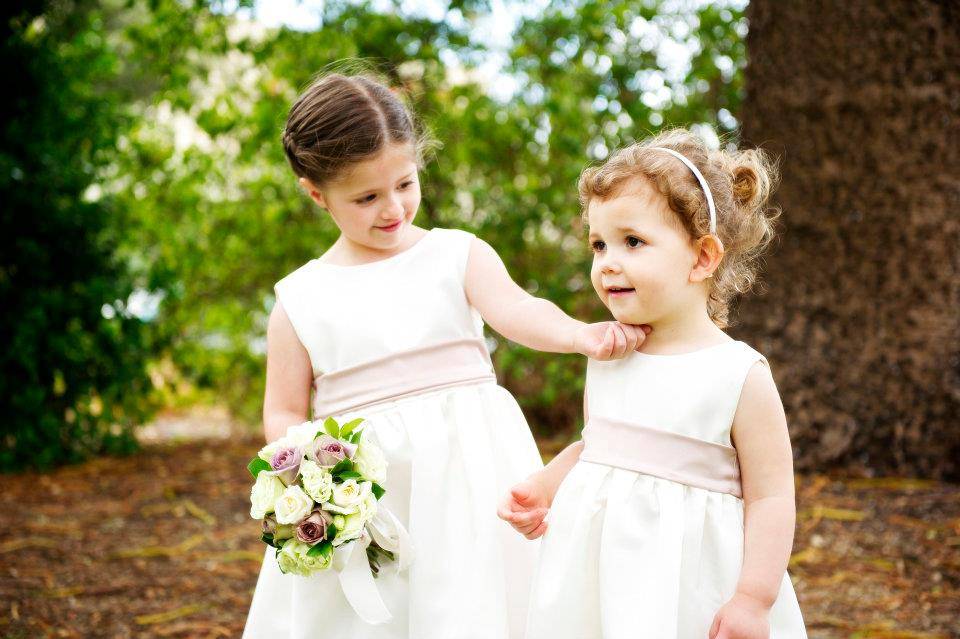 Image by Shona Henderson Photography
When I was getting married, I was in my early... nearly mid-twenties. Although I loved children, I had few friends who had them and my exposure to their needs was little. We had 2 flower girls and 2 pageboys. They ranged in ages from 5 to just turned 2 the day before the wedding. The youngest of the flower girls couldn't come to the house in the morning to have photos. Why I thought? It's such an important day. Not wanting to question the parents as I didn't have any children of my own, I let it go. The reason? She needed to nap before the rest of the big day. I was completely ignorant of that need.
We had two ceremonies on the day, one Catholic, one Greek Orthodox. It was a big day for us and looking back, now that we have kids… a massive day for them! Here are a few tips, upon reflection, to consider when having young children in your wedding.
1. CONSIDER THE AGE OF THE CHILDREN AND THEIR NEEDS
When asking children to be involved in your wedding, it's a great idea to ask the parents any questions you have about the kids. Their responses may surprise you! Do they need to sleep/nap and if so, what time would that be? Do we need to pack them snacks? FYI most kids are hungry… all the time. Do they need a bag with their "stuff" i.e. like wipes or their comfort teddy?
If they are little, do they need an adult to walk them down the aisle? Find out where the nearest toilet is. They always need to go at the worst possible time. The older they get the easier they usually are.
2. OTHER CHILDREN AT THE WEDDING
This can be a difficult one. Especially if you have family and friends coming that have lots of children combined. Some people will get upset about their kids not being invited and others will welcome a night away from them. Generally, the flower girls and page boys are invited to the wedding reception. It's a great idea to ask the parents what they prefer. They know their kids the best and know their limits.
If you are having a wedding where you are inviting loads of children, consider a lunchtime reception in lieu of an evening reception. This way you won't get all the parents scrambling at 9pm to get out the door because their kids have collapsed in a ball of over tiredness on the dance floor!
There are some great ways to incorporate child friendly activities at the reception day or night. One of the best ones I have come across (if you have an area suitable) is teepee tents set up just for kids. They include picnic table with pillows, rugs, decorations and fun craft activities. They could play in there all day and night. The best part is set up and pack down is included. If you are in SA check out the Wedding Activity Tent by Crowns and Confetti (click here to check it out).  
Another idea is having a children's entertainer come for an hour or two so they kids can enjoy themselves as much as the adults.
3. WHAT WILL THEY WEAR?
Children can be notorious at complaining about clothes. It's not soft enough, I'm too hot, this is itchy. If they boys are going to be wearing a suit and its going to be a hot day, consider allowing them to just wear their shirt and tie/bow tie in lieu of their jacket too.
The flower girls will almost always be in a dress. Although they would have tried it on for size, feel the inside for anything that will irritate their skin. Is the dress lined? Does it have any scratchy bits that they will complain about throughout the day?
Consult with the parents. It may just be that they can wear a simple white singlet or slip under their dress to make them feel more comfortable. If they will be attending the reception, consider asking the parents to pack a spare pair of clothes or you can purchase them an after-party outfit. Something soft like a cotton dress with a cardigan or shorts and a soft polo for the boys.
4. WHAT WILL THEIR 'JOB' BE ON THE DAY?
It's always a great idea to discuss (or get the parents to) what it is that the children will be doing on the day. For the flower girls, it may go something like… you need to sprinkle magical rose petals down the aisle. For boys it may be something like… you have a top-secret spy mission to get these special rings to the Groom.
Make it a little fun for them so they can feel like they have purpose too, like the grown-ups. They do steal the show to start with so make it fun!
5. WHO WILL LOOK AFTER THE CHILDREN IF THEIR PARENTS ARE THE ONES GETTING MARRIED OR ARE BOTH IN THE WEDDING PARTY?
Everyone wants to enjoy themselves without missing out on the action. This can be a very difficult task to do when there are children running around. Consider hiring a babysitter to attend the wedding to watch over the children alongside the parents. This has huge advantages at a surprisingly reasonable cost. They can take the children to the toilet, feed them, change them and play with them whilst the parents are undertaking their wedding day responsibilities.
Alternately, if you are the parent, ask the Bride and Groom if it would be okay if there was a non-invited guest (like a friend or relative) that could come along perhaps to the ceremony to watch the children after the kids have done their bit.
It's super hard to get kids to sit and watch a wedding without disturbing the ceremony. Having someone whom can take them outside if they can't sit still will make all the difference.
6. KIDS GROW OUT OF CLOTHES FAIRLY QUICKLY
When choosing an outfit for your little attendants, it's best to leave it to the last few months prior to the wedding. If you've found something you love and they just have to wear, but its ages before the wedding, order it in the next size up. If ordering online, be sure to measure the child for size. Do not guess! You don't want to be disappointed if it doesn't fit, you're out of time to return it or the size needed is out of stock. Kids clothes brands are all different, just like adults.
If you are short on time and money, consider hiring your flower girls dress! Long gone are the days when only the boys could hire their clothing. You can book online from Dress the Duchess (click here to check us out). We have a great range of flower girl and junior bridesmaid dresses for 4 or 7 day hires. We post it to you, then you just put it back in the post once you're done with it and the cleaning is taken care of.
Remember, it can be very overwhelming for children to be in front of and surrounded by lots of people. These little things can make them, and you feel a bit more at ease and can make the whole day a lot more enjoyable for everyone.